Senior Pastor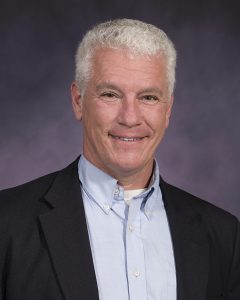 Education: B.S. in Statistics, West Virginia University; Masters of Divinity, Concordia Seminary, St. Louis, Missouri; Pastoral Leadership Institute.  Pastor Cameron is a trained Stephen Ministry Leader.
Here at Risen Savior Lutheran Church since: 1989
Personal Information: Married to Holly; Three grown children; Craig (wife Amanda), Amy and Brian (wife Molly)
Contact Information: Phone: 303-469-3521 ext. 106
Enjoys: Sports of all kinds, especially: football, soccer, basketball, skiing, golf and tennis. Reading, mostly non-fiction, hiking and traveling.
Fun Fact: Captain of the West VIrginia University's Men's Gymnastic Team
What I love about my position: I enjoy helping everyone become everything God wants them to be in Jesus Christ.
Bible Verse with special personal meaning: Romans 8:28-39

– especially: Nothing can separate us from God's love in Jesus Christ and God works everything out for our good.
Favorite church quote: If you're not talking about Jesus, you're off the subject.
Favorite personal quote: When was the last time you did something for the first time?
Contact Pastor Cameron by filling out the form below: