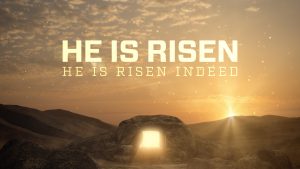 Welcome and Invocation
Reader 1: He is risen!
Reader 2: He is risen indeed, Alleluia!
Confession & Absolution
Make sure each person present has opportunity to confess to a brother or sister in the fellowship. Go through both parts as many times as needed to accommodate all who are gathered.
On the cross Jesus said, "It is finished," and on Easter our Father in heaven acknowledged the sacrifice complete by raising our Savior from death. Forgiveness is available to all who call out to God in Jesus' name. Let us therefore confess our sins.
Christian Confessing:
 I confess that I have not walked in newness of life. I have failed to love You with all that I am and have, and I have not always remembered the new life You bestowed on me in Baptism.  I have failed to love my neighbors with my thoughts, words, and deeds. Create in me a clean heart and renew a right spirit within me.
Christian Responding:
You are a baptized child of God. You have been united with Christ in his death, and his resurrection. God has put to death sin in you, and he raises you to a new and perfect life in Christ. In this new life you have forgiveness and salvation as a beloved child of God. Go in peace.
Both:                        Amen
Easter Prayer
Be with us now, as we celebrate Easter, open our minds to understand the Scriptures, open our hearts to trust in Jesus Christ our risen Savior, and open our lives to be witnesses of Your work in this world until your Son returns and brings His glorious kingdom that never ends; through Your Son, Jesus Christ, our Lord, who lives and reigns with you and the Holy Spirit, one God, now and forever. Amen.
Pray for Doctors and nurses fighting the virus, those fighting for a cure,and healing for people with the virus
Lord, we ask for Your caring hand on healthcare workers.  Give them strength and insight in how to care for each of their patients. Guide those fighting for a cure to this virus.We pray for all who have the virus to know You, and to know Your healing power. Give them the strength in their fight and restore them, here on Earth, and in Heaven with You. Amen.
Apostles Creed
I believe in God the Father Almighty, maker of heaven and earth.  And in Jesus Christ, His only Son our Lord, who was conceived by the Holy Spirit, born of the Virgin Mary, suffered under Pontius Pilate, was crucified, died and was buried.  He descended into hell.  The third day he rose again from   the dead.  He ascended into heaven, and sits at the right hand of God the Father Almighty.  From thence He will come to judge the living and the    dead.  I believe in the Holy Spirit, the holy Christian Church, the communion of saints, the forgiveness of sins, the resurrection of the body, and the life everlasting. Amen.
RSLC Faith Family- Easter Hello

Those Who Serve In Online Worship
Pastor Phil Cameron- Senior Pastor
Sarah O'Connor- Director of Worship
Colleen Martchenke- Worship Coordinator
Gladys Sweetwood- Communication Coordinator
Specials thanks to help from
Bill Martchenke- Children's Message
Scripture Readers-
Ed Doolos, Ruth Hammes, Kevin Hischke, Mike Koenig
Music Offerings 
Sandy Meske- Piano
Karen Pring- Violin
Colten Highley- Guitar/Vocals
Nicole London- Vocals
Tony London- Vocals
Our Music Groups
4Given

-
Daryl Meske, Tony London, Jim Walker, Jim Krueger
RSLC Praise Team-
Kim Alberts, Holly Cameron, Daniel Cooper, Brianna Corcoran,
Ed Doolos, Nick Duclos, Paul Fernandez, Colten Highley,
Duane Highley, Steve Nickels, Sarah O'Connor