Prayer
Heavenly Father, Your mercies are new every morning; and though we deserve only punishment, You receive us as Your children and provide for all our needs of body and soul. May we acknowledge Your merciful goodness, give thanks for all Your blessings, and serve You in willing obedience.  Amen.
His Mercy Is More
Chorus
Praise the Lord His mercy is more
Stronger than darkness new every morn
Our sins they are many His mercy is more
Verse 1
What love could remember no wrongs we have done
Omniscient all knowing He counts not their sum
Thrown into a sea without bottom or shore
Our sins they are many His mercy is more
Chorus
Verse 2
What patience would wait as we constantly roam
What Father so tender is calling us home
He welcomes the weakest the vilest the poor
Our sins they are many His mercy is more
Chorus
Verse 3
What riches of kindness He lavished on us
His blood was the payment His life was the cost
We stood 'neath a debt we could never afford
Our sins they are many His mercy is more
Chorus
Oh Our Lord
Chorus 2x
Oh our Lord
Oh our Lord
How majestic is Your Name in all the earth
Verse 1
We behold the breaking dawn
The light that shines over ev'ryone
We look to You we long for You oh Lord
Chorus
Verse 2
We behold the rising sun
The earth awakes Your hope has come
We look to You we long for You oh Lord
Chorus
Verse 3
We behold the falling rain
Like waters rise flood this place
We reach for You we cling to You oh Lord
Chorus
Bridge 2x
Oh Your Name is a light in the darkness
Oh Your Name is the word of truth
Oh Your Name oh Your Name
Chorus 3x
Confession
God of God, Light of Light, we confess that by nature we are sinful and unclean, born in darkness. We are often blind to Your Word and Your work in our lives, sinning against You and against one another in thought, word, and deed. For the sake of Jesus, who is the light of the world, forgive me all my sins, that my eyes may be opened and my heart enlightened to look to You in faith and hope.
Apostles Creed
I believe in God the Father Almighty, maker of heaven and earth.  And in Jesus Christ, His only Son our Lord, who was conceived by the Holy Spirit, born of the Virgin Mary, suffered under Pontius Pilate, was crucified, died and was buried.  He descended into hell.  The third day he rose again from   the dead.  He ascended into heaven, and sits at the right hand of God the Father Almighty.  From thence He will come to judge the living and the    dead.  I believe in the Holy Spirit, the holy Christian Church, the communion of saints, the forgiveness of sins, the resurrection of the body, and the life everlasting. Amen.
Old Testament Reading
Psalm 139
(ESV)
Search Me, O God, and Know My Heart
To the choirmaster. A Psalm of David.
139 O Lord, you have searched me and known me!
2 You know when I sit down and when I rise up;
    you discern my thoughts from afar.
3 You search out my path and my lying down
    and are acquainted with all my ways.
4 Even before a word is on my tongue,
    behold, O Lord, you know it altogether.
5 You hem me in, behind and before,
    and lay your hand upon me.
6 Such knowledge is too wonderful for me;
    it is high; I cannot attain it.
7 Where shall I go from your Spirit?
    Or where shall I flee from your presence?
8 If I ascend to heaven, you are there!
    If I make my bed in Sheol, you are there!
9 If I take the wings of the morning
    and dwell in the uttermost parts of the sea,
10 even there your hand shall lead me,
    and your right hand shall hold me.
11 If I say, "Surely the darkness shall cover me,
    and the light about me be night,"
12 even the darkness is not dark to you;
    the night is bright as the day,
    for darkness is as light with you.
13 For you formed my inward parts;
    you knitted me together in my mother's womb.
14 I praise you, for I am fearfully and wonderfully made.
Wonderful are your works;
    my soul knows it very well.
15 My frame was not hidden from you,
when I was being made in secret,
    intricately woven in the depths of the earth.
16 Your eyes saw my unformed substance;
in your book were written, every one of them,
    the days that were formed for me,
    when as yet there was none of them.
17 How precious to me are your thoughts, O God!
    How vast is the sum of them!
18 If I would count them, they are more than the sand.
    I awake, and I am still with you.
19 Oh that you would slay the wicked, O God!
    O men of blood, depart from me!
20 They speak against you with malicious intent;
    your enemies take your name in vain.
21 Do I not hate those who hate you, O Lord?
    And do I not loathe those who rise up against you?
22 I hate them with complete hatred;
    I count them my enemies.
23 Search me, O God, and know my heart!
    Try me and know my thoughts!
24 And see if there be any grievous way in me,
    and lead me in the way everlasting!
New Testament Reading
Philippians 4:4-9
(ESV)
4 Rejoice in the Lord always; again I will say, rejoice. 5 Let your reasonableness be known to everyone. The Lord is at hand; 6 do not be anxious about anything, but in everything by prayer and supplication with thanksgiving let your requests be made known to God. 7 And the peace of God, which surpasses all understanding, will guard your hearts and your minds in Christ Jesus.
8 Finally, brothers, whatever is true, whatever is honorable, whatever is just, whatever is pure, whatever is lovely, whatever is commendable, if there is any excellence, if there is anything worthy of praise, think about these things. 9 What you have learned and received and heard and seen in me—practice these things, and the God of peace will be with you.
Gospel Reading
Matthew 8:23-27
(ESV)
Jesus Calms a Storm
23 And when he got into the boat, his disciples followed him. 24 And behold, there arose a great storm on the sea, so that the boat was being swamped by the waves; but he was asleep. 25 And they went and woke him, saying, "Save us, Lord; we are perishing." 26 And he said to them, 

"Why are you afraid, O you of little faith?"

 Then he rose and rebuked the winds and the sea, and there was a great calm. 27 And the men marveled, saying, "What sort of man is this, that even winds and sea obey him?"
Lord's Prayer
Our Father who is in heaven, hallowed be your name, your kingdom come, your will be done on earth as it is in heaven. Give us this day our daily bread. And forgive us our trespasses as we forgive those who trespass against us. Lead us not into temptation, but deliver us from evil. For yours is the kingdom and the power and the glory forever and ever. Amen.
More Like Jesus
Verse 1
You came to the world You created
Trading Your crown for a cross
You willingly died
Your innocent life paid the cost
Verse 2
Counting Your status as nothing
The King of all kings came to serve
Washing my feet
Covering me with Your love
Chorus
If more of You means less of me
Take ev'rything
Yes all of You is all I need
Take ev'rything
Verse 3
You are my life and my treasure
The One that I can't live without
Here at Your feet
My desires and dreams I lay down
Here at Your feet
My desires and dreams I lay down
Chorus 2x
Bridge 2x
Oh Lord change me like only You can
Here with my heart in Your hands
Father I pray make me more like Jesus
This world is dying to know who You are
You've shown us the way to Your heart
So Father I pray make me more like Jesus
More like Jesus more like Jesus Lord
Chorus
Offering
We join Christians all over the world in this significant act of worshipping God through our financial giving. You can mail offering envelopes, or checks to Risen Savior or you can click on the image below, for options to give online.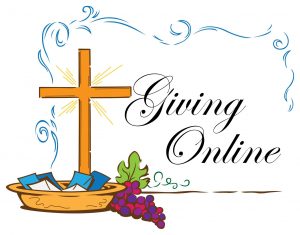 Thy Will Be Done
Verse 1
Sometimes the load is heavy
And sometimes the road is long
And sometimes Lord
This heart of mine
Is not so very strong
But Thy will be done Lord
Thy will be done
Verse 2
Father I do not ask You
To take this cup from me
I only ask Your guidance
O'er paths I cannot see
And Thy will be done Lord
Thy will be done
Bridge
Our Father who art in heaven
Hallowed be Thy name
Thy kingdom come
Thy will be done on earth as it is
As it is in heav'n
Give us this day our daily bread
And forgive us our debts
As we forgive our debtors
And lead us not into temptation
But deliver us from evil
For Thine is the kingdom
And the pow'r and the glory
Forever amen
Verse 3
Now Lord I feel You near me
I feel Your guiding pow'r
And know You're standing by me
Through ev'ry passing hour
And Thy will be done Lord
Thy will be done
Benediction
The Lord bless you and keep you.
The Lord make His face shine on you and be gracious to you.
The Lord look upon you with favor and give you peace. Amen.
Sing Sing Sing
Chorus     
Sing, sing, sing And make music with the heavens
We will sing, sing, sing Grateful that You hear us
When we shout Your praise Lift high the name of Jesus
Verse 1  
What's not to love about You? Heaven and earth adore You
Kings and kingdoms bow down Son of God, You are the One
You are the One
Verse 2
You are the love that frees us You are the light that leads us
Like a fire burning Son of God, You are the One
You are the One we're living for…
Chorus
Verse 3
What's not to love about You? Heaven and earth adore You
Kings and kingdoms bow down Son of God, You are the One
You are the One we're living for
Chorus
Musical Interlude
Chorus 2
Sing, sing, sing  And make music with the heavens
Sing, sing, sing  Grateful that You hear us We shout Your praise  Lift high the name
Chorus 3  
Sing, sing, sing  And make music with the heavens
We will sing, sing, sing  Grateful that You hear us
We shout Your praise  Lift high the name of Jesus